Agent Elvis EPs John Eddie and Mike Arnold spoke with Bleeding Cool about landing the A-list voice talent, favorite gags & moments, and more.
---
The hilarious Agent Elvis, currently streaming on Netflix, features Elvis Presley trading in his jumpsuit for a jet pack when he is covertly inducted into a secret government spy program to battle the dark forces that threaten the country he loves – all while holding down his day job as the King Of Rock And Roll. Agent Elvis stars Matthew McConaughey (Interstellar) as Elvis, Kaitlin Olson (Always Sunny in Philadelphia), Johnny Knoxville (Jackass), Niecy Nash (Claws), Tom Kenny (SpongeBob Square Pants), and Don Cheadle (White Noise). Recently, co-creator/ executive producer John Eddie and head writer/ executive producer Mike Arnold sat down with Bleeding Cool to chat about landing the A-list voice talent, favorite gags in the show, and favorite moments during the production. Consider this a "MINOR SPOILERS AHEAD!" warning…
"Agent Elvis" has Matthew McConaughey starring as Elvis, Baz Luhrmann voices The Director, famed costume designer Jon Varatos has designed Elvis' wardrobe, and a murderer's row of voice talent is involved with this project. What would you say is the biggest win when you started this project? 
Mike Arnold: We still pinch ourselves over the cast that we got together. Never has there been a cast like this for an animated television show. It all started with being lucky enough to get Matthew. We wanted somebody who could kind of bring the coolness that Elvis was all about to life. And Matthew has this wonderful, effortless swagger that he brought to the voice of Elvis and really made it his own. From there, at every turn, it was really swinging for the fences. We did not think we'd get Don Cheadle after Matthew. We got to give it a shot, and we did. And Caitlyn and Niecy and Johnny Knoxville and on down the line. We just could not be more fortunate. They're such great actors and actresses. They understood the comedy. They're very funny in their own way, and they understood the timing. They brought everything to life in a way that we really couldn't have anticipated and elevated the whole project together. I would say the cast was really the biggest thing we had moving forward once it all came together. 
John Eddie: I think that undeniable combination of Matthew McConaughey's cool with the cool of Elvis Presley and the participation of Priscilla, knowing that we had her support and the support of the world of Elvis Presley doing this show. I think once Matthew came on board, that got all the other A-list talent going like, wow, this is not just some silly project. This is a cool project.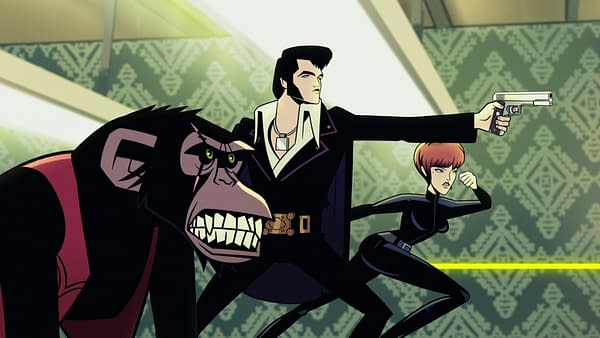 You have Ben Franklin electrifying genitalia, Nixon's sex ideas, "Elvis Kenelvis," and an Auto-fistic Nihilist. What is your guys' favorite gag in the show, Or do you have one that didn't make it into the show?
Mike Arnold: I think it did a good job of setting the tempo, and the tone of the show, in the pilot when Elvis is interrogating the bad guy tied to the chair. He says, 'I promise you, Scatter is going to pull that trigger.' But the head blows up right there because Scatter misinterpreted what he was saying. It is a great moment because so early on in the show, we're telling the audience, in these moments where it's going to get intense, it's going to go off the rails really quickly. It's going to go off the rails in a way that's character specific and that you buy into. I think it really captured what we were trying to do. 
 John Eddie: Kieran Culkin [Scott Pilgrim vs. the World], when he came down to his voice- I'm a big Succession fan, so when Kieran agreed to do the part in the finale, I was kind of fanboying him. I was like, 'Dude, thank you so much for doing this show.' He (replied), 'Dude, you have Elvis Presley fighting Robert Goulet in a volcano on jetpacks. Why wouldn't I do this show? I pick my projects by what I want to see. I want to see Elvis Presley fighting Robert Goulet in a volcano on jetpacks.' I think every episode has something that makes me go, 'Damn, I can't believe we got to do that.' It's just it's a fun ride, for sure. 
Agent Elvis is currently streaming on Netflix and also stars Ed Helms, Jason Mantzoukas, Christina Hendricks, Kieran Culkin, Chris Elliot, Asif Ali, Fred Armisen, Ego Nwodim, Simon Pegg, Craig Robinson, Gary Cole, George Clinton, Tara Strong, Tony Cavalero, and Priscilla Presley.
Denial of responsibility!
TechnoCodex is an automatic aggregator of the all world's media. In each content, the hyperlink to the primary source is specified. All trademarks belong to their rightful owners, all materials to their authors. If you are the owner of the content and do not want us to publish your materials, please contact us by
email –

[email protected]
. The content will be deleted within 24 hours.