Bleeding Cool has been following the various split-personality decisions at Poison Ivy's publisher DC Comics in recent years. With one side of the company dedicated to portraying a queer heroic character looking to save humanity, with her best girl Harley Quinn. Against another side dedicated to restoring her Batman villain roots as an environmental terrorist, without any of that Harley Quinn nonsense getting in the way. To the extent that Poison Ivy was literally split into two beings, one a crazy warrior, the other a simpering fool. All the while that Poison Ivy and Harley Quinn had been getting together – and getting married – in the Harley Quinn Animated Series, with a spinoff comic book continuing the story of their relationship.
Batman writer James Tynion IV had a stab at reconciling the different aspects of Poison Ivy in the light that much of DC Comics editorial – including the Poison Ivy traditionalists – had been made redundant. In his final Batman #117, the Poison Ivys were combined, she not only did not destroy Gotham but saved it. Then in Gotham City Villains Anniversary Special #1 written by G Willow Wilson and drawn by Emma Rios spoke to Poison Ivy's present situation and future in 2022.
And suddenly working again solo as an environmental terrorist or environmental  activist, depending on your viewpoint…
Using her plant manipulation power to invade a major polluting plant…
…taking down the polluters in chief, killing their employees…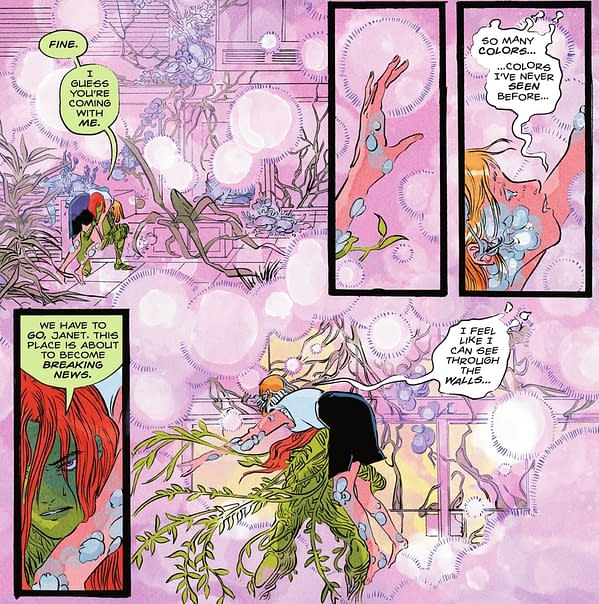 Those who don't look like Harley Quinn, at least. And aren't called Janet.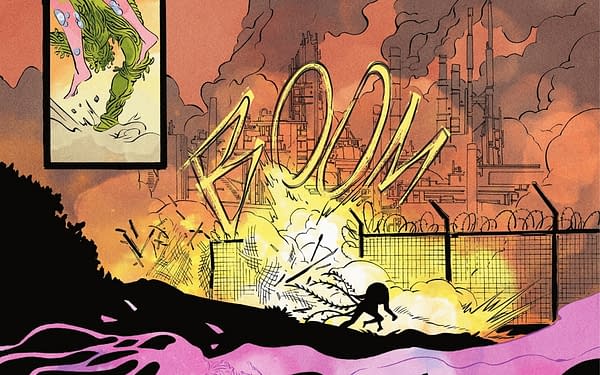 And promising more stories for 2022, as we were promised that "Poison Ivy's story blooms in 2022".

And that's certainly what we got, G Willow Wilson writing a Poison Ivy who was committing genocide, planning – and starting to succeed – in wiping out all human life on the planet, including kids.  And they started dying, and Bleeding Cool dubbed her "worse than Thanos." At the time, we asked if that would be the get out, " That mushrooms have infected her brain, much as magic mushrooms or psilocybin, distort her perception of time, space, and self. Or how fungus can cause meningitis. Or how Ophiocordyceps Unilateralis, related to the Ophiocordyceps Lamia from this story (and for that matter, Cordyceps Jones in the current X-Men comics) infects ants, controlling their body and influencing their minds to climb grass stalks to the perfect temperature to grow them into a spore host, bursting through their skin, right above the home of its fellow ants, a prisoner in its own dying body." Which might also be the only explanation for her switching from being vegan to being a carnivore. Or defending union rights while murdering the workforce at a mini-Amazon distribution company. And… well it was kinda that. She killed and ate Jason Woodrue, the Florinic Man, which seemed a little cathartic and she started to see the wonder and glory in people after all, etc.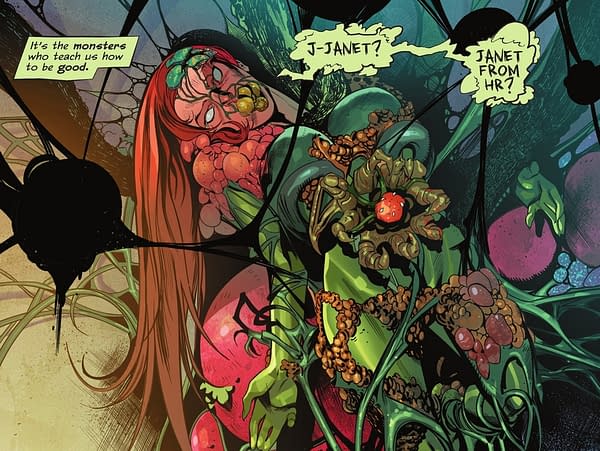 And in today's Poison Ivy #8, under assault by one of her fungal polluting now-enemies, we got to meet Janet again.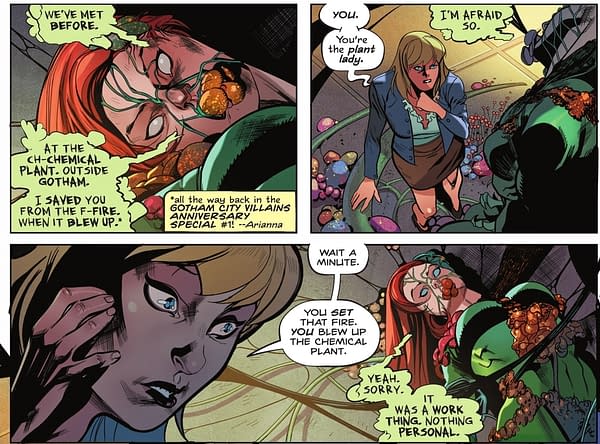 And the comic pivots to become what someone does for health insurance. It's one of those things that seems peculiar to America, that people will stay in, or take, jobs they hate because they can't get health insurance without it. It's a regressive market move that inhibits economic growth, and ends up costing recipients far more money in the long run, though it does give insurance companies a free ride. It may be notable that, despite the preponderance of British comic book talent in the industry, you will never have seen a GoFundMe to pay a British comic book creators medical bills.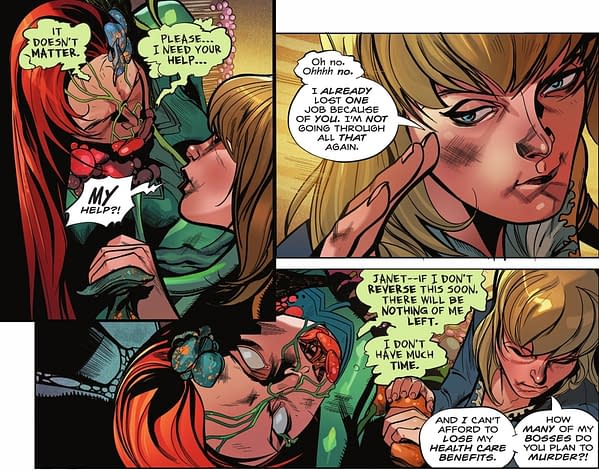 And that's where Janet is. she has to continue working for a monster, and denying help to those in need, even those who previously saved her life (after putting it in danger) in order to keep healthcare going.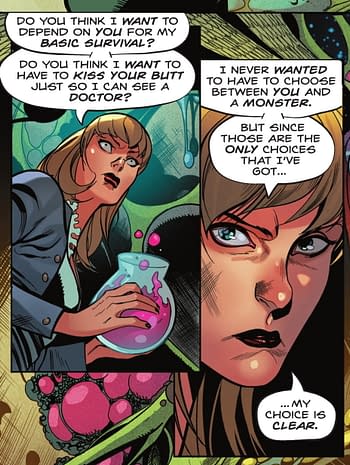 What I really like about this run of Poison Icy is how it has switched to be more like Swamp Thing, not just in its use of the Green, Jason Woodrue and the rest, but how it has created morality – or immorality tales. Closer to the Swamp Thing origins in House Of Secrets, or comics like The Witching Hour, putting people in the position to make decisions and live with the consequences, while allowing the audience to empathise with the worst decisions possible – or judge them. To date that has mostly been Ivy making those decisions, but here Janet gets to as well.
Or course there is a twist.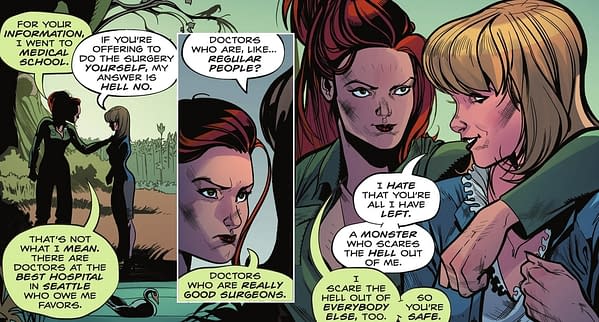 But now Janet will be in debt to a very different kind of monster… as Douglas Adams wrote for Arthur Dent, "Ah, this is obviously some strange use of the word safe that I wasn't previously aware of." And more to come… G Willow Wilson tweeted on New Year's Eve "Wrote what was supposed to be an 8-page short. Which turned into a 6 issue mini series. Which turned into the highest-selling single issue of my entire career. Which turned into a 12-issue series. Which turned into…" Ongoing? Well, there is that reunion with Harley Quinn coming in a month's time…
POISON IVY #8 CVR A JESSICA FONG
(W) G. Willow Wilson (A) Atagun Ilhan (CA) Jessica Fong
Poison Ivy's adventure in fracking comes to an emotional head when the return of an old friend forces our verdant villain to confront the very real, very human costs of her actions. Will Ivy turn over a new leaf or is she sticking to her plan? Retail: $3.99 In-Store Date: 1/3/2023
POISON IVY #9 CVR A JESSICA FONG
(W) G. Willow Wilson (A) Marcio Takara (CA) Jessica Fong
IT'S THE ISSUE YOU'VE ALL BEEN WAITING FOR! That's right! Ya girl Harley Quinn—doctor, fashionista, heroic criminal, criminally insane clown, and Poison Ivy's girlfriend—has arrived on the West Coast to spend some quality time with her number-one squeeze! What sort of wildly lascivious and lavishly ludicrous madcap mayhem will the DCU's favorite couple get up to? Featuring the return of series artist Marcio Takara and an assortment of utterly mouthwatering variant covers by some of the most delectable artists around, from iconic Harley Quinn artist Terry Dodson to incoming Harley Quinn artist Sweeney Boo, as well as Dan Mora, Rian Gonzales, and Mindy Lee! You won't want to miss a single bit of it—we guarantee it!
Retail: $3.99 In-Store Date: 2/7/2023
POISON IVY #10 CVR A JESSICA FONG
(W) G. Willow Wilson (A) Marcio Takara (CA) Jessica Fong
Before Ivy embarks on her trip back to Gotham, our verdant villainess sets her sights on a fungus-loving Hollywood celebrity with a lifestyle brand and spa that's raising some major red flags on Ivy's radar. All this because poor Janet from HR wanted to have some R&R before the car ride back east! Aw jeez!
Retail: $3.99 In-Store Date: 3/7/2023
Denial of responsibility!
TechnoCodex is an automatic aggregator of the all world's media. In each content, the hyperlink to the primary source is specified. All trademarks belong to their rightful owners, all materials to their authors. If you are the owner of the content and do not want us to publish your materials, please contact us by
email –

[email protected]
. The content will be deleted within 24 hours.