The Summer Of Symbiotes Marvel panel at C2E2 revealed more for Venom's 35th anniversary with new symbiote titles launching.
---
The Summer Of Symbiotes Marvel panel at C2E2 in Chicago, with Editor-in-Chief C.B. Cebulski and Venom editor Devin Lewis, along with David Pepose, Sabir Pirzada, and Zeb Wells, has revealed more for the Spider-Man event Summer Of Symbiotes for Venom's 35th anniversary. With new symbiote titles launching, including Death Of The Venomverse by Cullen Bunn and David Michelinie. Looks like Marvel is back in the Cullen Bunn business again.
"It's been far too long since I've written any stories about Venom and company," Bunn said. About Eddie, about Flash, about Andi, about Carnage. This story–this completely bonkers epic–feels like the right time to throw my symbiotic hat back in the ring. Returning to a multiverse full of Venom symbiotes, maybe (but hopefully not) for the last time, I knew I had to do something big. Thus, the title—DEATH OF THE VENOMVERSE–was born. Perhaps that title is a bit of a threat for our favorite symbiotes, but I promise you it is not empty! Get ready for plenty of surprises, some heartbreak, and more symbiotes than you can shake a stick at!"
CULT OF CARNAGE: MISERY #1 – 75960620568400111
Written by SABIR PIRZADA
Art by FRANCESCO MORTARINO
Madness Concept Art by FRANCESCO MORTARINO
Cover by SKAN
On Sale 5/3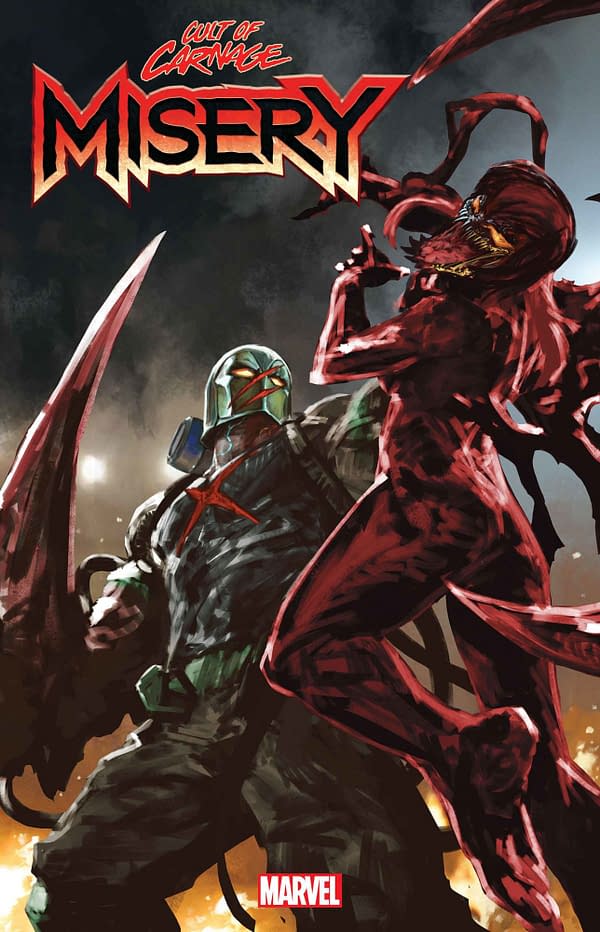 CULT OF CARNAGE: MISERY #3
Written by SABIR PIRZADA
Art by FRANCESCO MORTARINO
Cover by SKAN
On Sale 7/26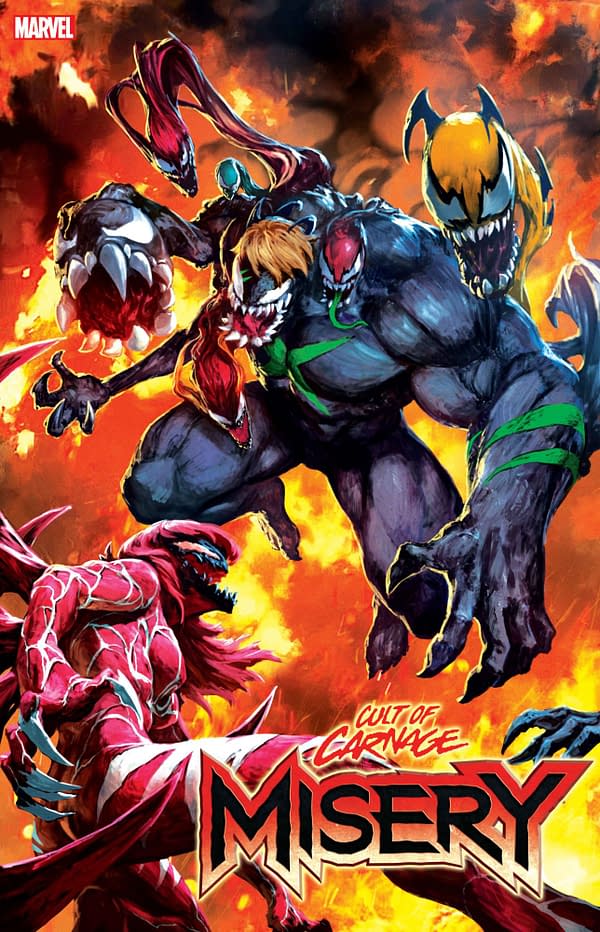 CULT OF CARNAGE: MISERY #4
Written by SABIR PIRZADA
Penciled by FRANCESCO MORTARINO
Cover by SKAN SRISUWAN
On Sale 8/30
It's a fight against MADNESS in Sabir Pirzada and Francesco Mortarino's CULT OF CARNAGE: MISERY! The new symbiotic monstrosity called Madness inadvertently forced Liz Allan to bond to the all-new MISERY symbiote, changing both her life and the future of symbitoes! Imbued with all the powers and personalities of the LIFE FOUNDATION SYMBIOTES (and more!), Madness is a symbiotic force unlike any other in the Marvel Universe. There is nowhere that Liz Allan can go that Madness cannot follow, no one she can ask for help that Madness cannot destroy, and nothing she can do to stop the brutality of its onslaught. Fans can see Madness in all his glory on the cover of CULT OF CARNAGE: MISERY #4 and concept art by Francesco Mortarino!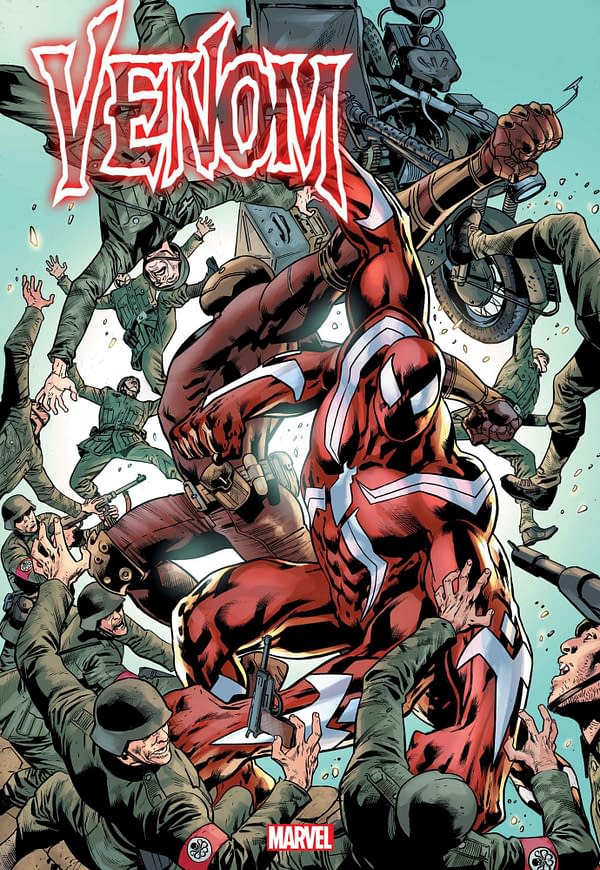 VENOM #22
Written by AL EWING
Art by RAMON F. BACHS
Cover by BRYAN HITCH
On Sale 7/5
Behold a radical transformation of Eddie Brock as Venom in Al Ewing and Ramon F. Bachs' VENOM #22! For months, Eddie Brock's consciousness has been displaced in time! You've seen what happens when he's flung himself to the far future of the Marvel Universe – now see what happens when he tries to traverse its past! Face to face with the mysterious FLEXO in the past, Venom learns a shocking secret about the role symbiotes playing in Marvel history!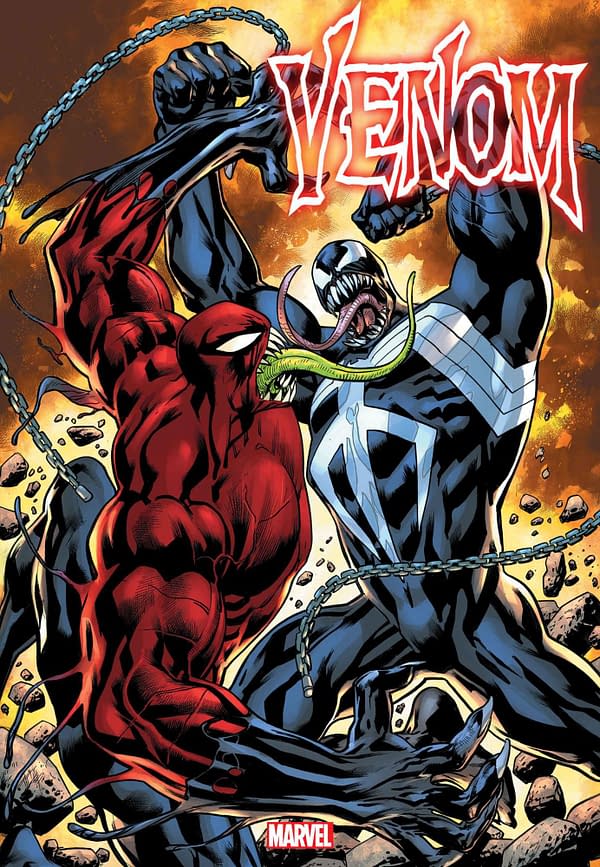 VENOM #23
Written by TORUNN GRØNBEKK
Art by KEN LASHLEY
Cover by BRYAN HITCH
On Sale 7/19
Torunn Grønbekk and Ken Lashley create a new vision of TOXIN in VENOM #23! Toxin is the offspring of the most dangerous symbiote in the history of the Marvel Universe: CARNAGE. But while Carnage and Cletus Kasady are separated and both devising machinations and plans of cosmic bloodshed and conquest, what has its progeny been doing? And will Dylan Brock or the Venom symbiote survive when they come face to face with this latest terrifying Toxin?! And Toxin isn't the only symbiote in this story who's unlike anything you've ever seen! The symbiote family is about to grow a little larger… and what's coming will change the continuing saga of the symbiotes FOREVER!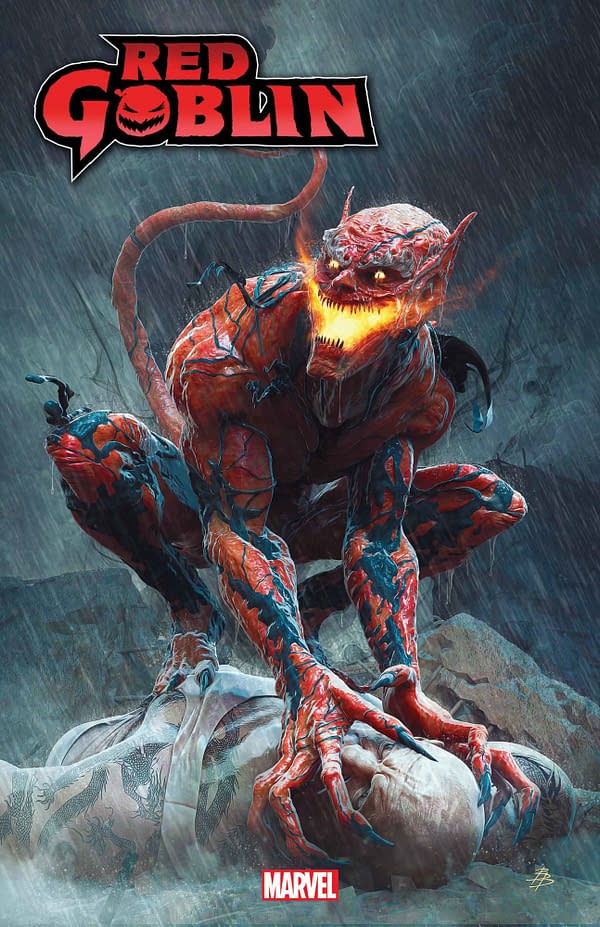 RED GOBLIN #6
Written by ALEX PAKNADEL
Art by JAN BAZALDUA
Cover by BJÖRN BARENDS
On Sale 7/12
Alex Paknadel and Jan Bazaldua begin a new arc "Nature Vs. Nuture" in RED GOBLIN #6! CARNAGE REIGNS may be over, but Normie Osborn and the Rascal symbiote's problems are only just beginning! For weeks, Normie's pacified the symbiote and managed to keep the rabid killing machine inside it under control. But in this issue, Normie learns that you can't fight nature…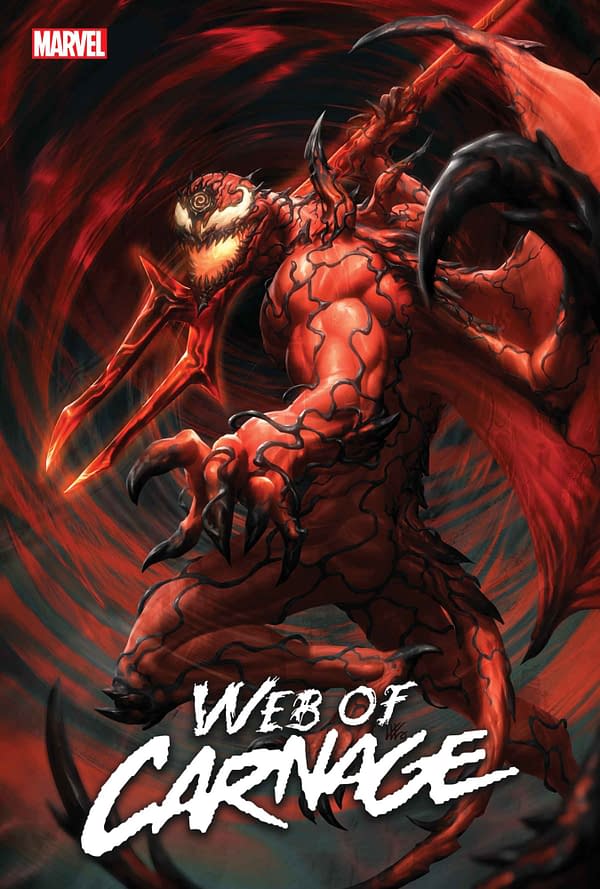 WEB OF CARNAGE #1
Written by RAM V & MORE
Art by FRANCESCO MANNA
Cover by KENDRICK "KUNKKA" LIM
On Sale 7/12
CARNAGE SEEKS TO INHERIT THE EARTH in WEB OF CARNAGE, a new series by Ram V, Francesco Manna, and more. In the aftermath of CARNAGE REIGNS where Cletus Kasady exacted his vengeance on Miles Morales and the Marvel Universe, the Carnage symbiote remains left to its own devices, adrift among the stars. With its purpose renewed, Carnage has scant few hurdles between it and a glorious ascension to the throne of the King in Black…and the first is named Morlun.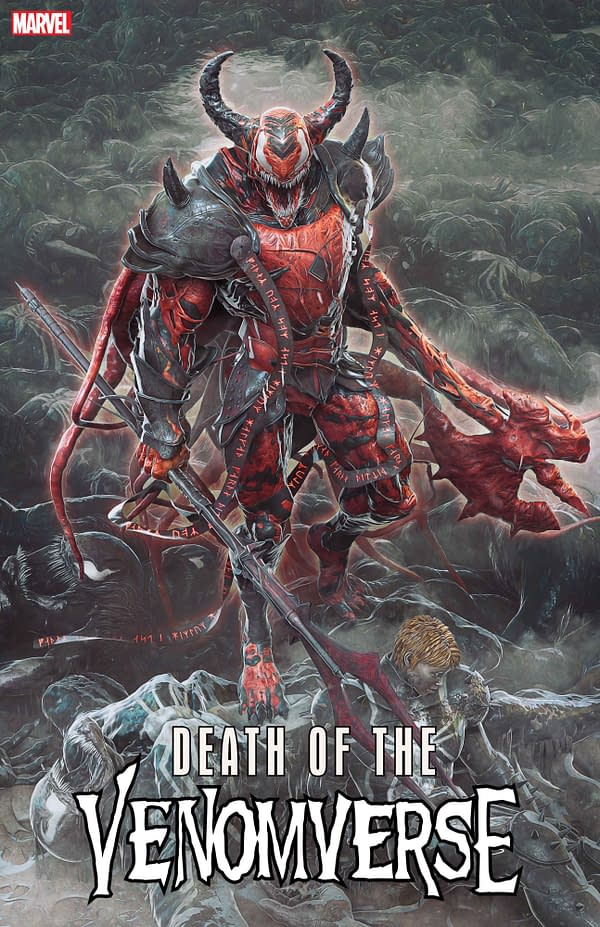 DEATH OF THE VENOMVERSE #1 (OF 5)
Written by CULLEN BUNN & DAVID MICHELINIE
Art by GERARDO SANDOVAL
Cover by BJÖRN BARENDS
On Sale 8/2
And finally, the capstone to Summer of Symbiotes and spinning out of EXTREME VENOMVERSE comes THE DEATH OF THE VENOMVERSE! Symbiote hotshots Cullen Bunn and Gerardo Sandoval are reuniting to bring the symbiotic ax down on the VENOMVERSE! Carnage has been building his powers up, extracting unique abilities from many villains throughout the Marvel Universe to the point of traversing the Multiverse with a singular goal: KILL ANY AND ALL VENOMS! The limited series will also include a classic tale in the vein of Venom: Lethal Protector by Venom co-creator David Michelinie. All five issues will release in August and will be packed with more symbiote shakeups than you can wrap your head around!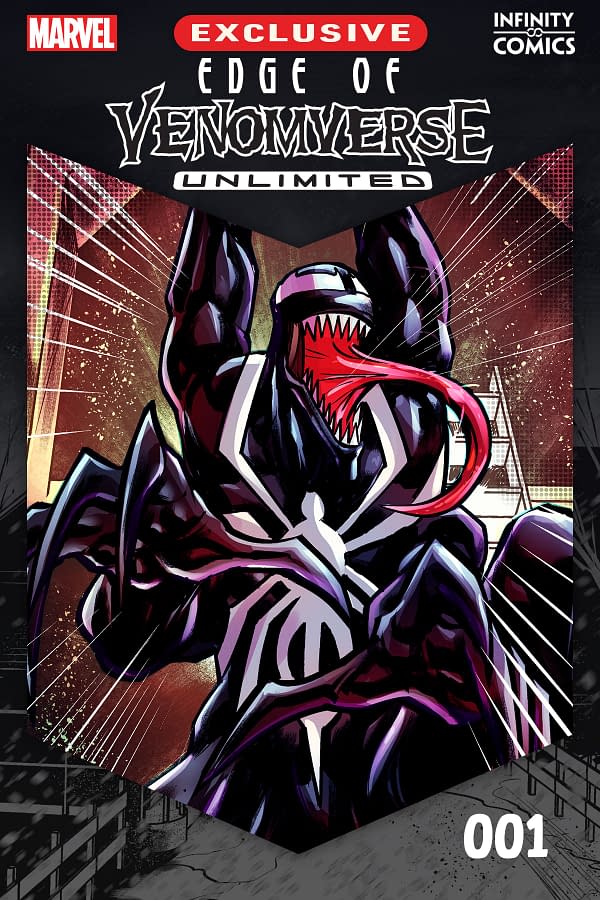 EDGE OF VENOMVERSE UNLIMITED INFINITY
The SUMMER OF SYMBIOTES will also infect Marvel Unlimited in the EDGE OF VENOMVERSE UNLIMITED INFINITY COMIC series! A new Venom has been unleashed upon an unsuspecting world in this saga by writer Clay McLeod Chapman and an exciting lineup of artists including Phillip Sevy, Gustavo Duarte, Dax Gordine, and Nathan Stockman. On a freezing, snow-covered night a Holy Man comes to the aid of a mother and father terrified to kiss their little girl goodnight. Will he offer salvation or the ultimate destruction? The series drops on Marvel Unlimited on Tuesday, June 13 and J. Holtham will be writing alternating stories, beginning with a special 4th of July address from President Venom.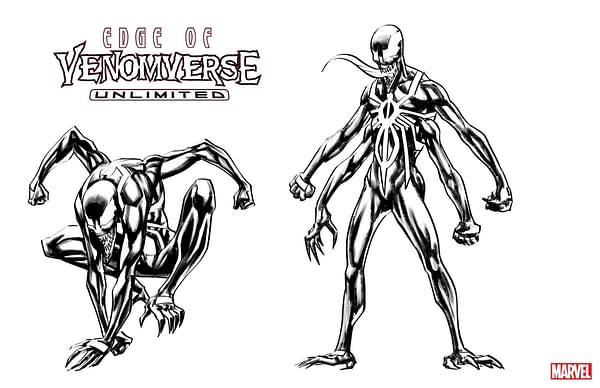 Denial of responsibility!
TechnoCodex is an automatic aggregator of the all world's media. In each content, the hyperlink to the primary source is specified. All trademarks belong to their rightful owners, all materials to their authors. If you are the owner of the content and do not want us to publish your materials, please contact us by
email –

[email protected]
. The content will be deleted within 24 hours.